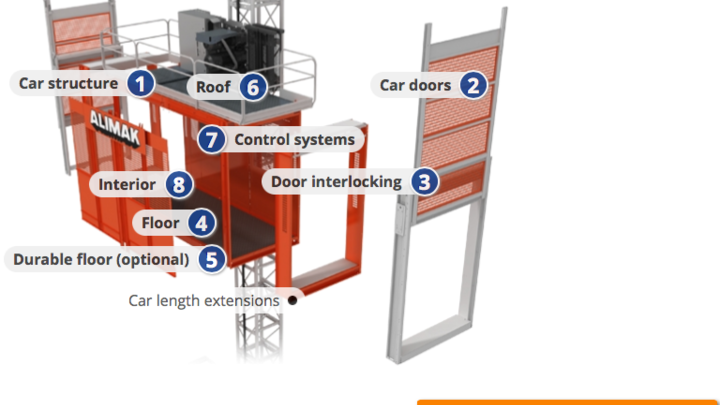 A modern web-based tool for presentation of products, ideas, and concepts.
Alimak Hek, the world's leading manufacturer of industrial lifts and work platforms, was looking for the best possible way to present their products. For several years, they used Flash as a tool to achieve this goal. It turned out Flash was difficult and expensive to update each time Alimak Hek had the need of publishing new product details.
The use of Flash entailed greater disadvantages. It cannot be used with tablets for product presentation. Furthermore, presentations were static and support of Flash support added a high maintenance cost.
Our goal was to create a simpler, more dynamic tool in HTML5 for modern product presentations. An alternative to Power Point with the focus on ease of use and flexibility.
The basis of our project was to create a clear structure in the new presentation tool. Our motivation was to deliver new fresh product in the form of the Interactive Product Guide.
The first condition for good product presentation was access to usable, high-resolution images.
With easy image upload plus a drag and drop function, it became easy to make sales presentations single handedly. Our developers also managed to create dynamic image maps, in which you create notes related to image details with pixel precision.
Presentation can be shown flat, similar to Powerpoint, but also in depth – enabling you to dive in into the tiniest detail. Additionally, we have made it possible for the sales team at Alimak Hek to, at any time, download the off-line version, in order to make presentations possible in places where Internet access is not accesible.
The final result was that we created a modern, interactive presentation tool with significantly lower maintenance cost. In Alimak Hek's case the IPG was created with a focus on presentations conducted on tablets.
Available in:

English • Svenska

Viewed:

103

Tagged:

presenation tool, product presentation, presentation solution